A few months ago we started a book club, now called " People of Steel" with some Christian friends in the steel business.  It is to encourage and inspire each other and communicate ideas beyond our normal steel talk.  It is more about God, Faith and inspiration. This month's selection is from a member who sells wire rod for Charter Steel and a friend since the 1980's.
Here is his recommendation….
The book is titled "The Color of Rain", written by Michael and Gina Spehn.
I hope the guys won't mind a story of faith, hope and love (part of the subtitle).
The story has a personal connection for our family as Mike went to our church and was my son's high school basketball coach.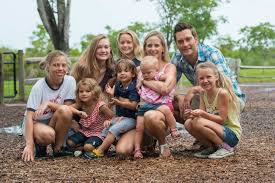 The book itself is a story of dealing with tragedy and how the two authors are a light to our community.
A Hallmark movie with the same title was made about this story as well.
The reason for the fundraiser event is that tragedy has struck this family again (not in the book as the book was written a few years ago).

Mike and Gina's strength, courage, and faith are literally beyond comprehension.
Sadly, another book may be in the offing.
So, maybe not as "manly" of a book as others but one certainly exemplifying the love for our Lord.
I look forward to reading this and we'll post a short review next month.
If you read the book, please let me know your thoughts.
Enjoy!